FIN382: Risk Management for Finance and Technology Assignment, SUSS, Singapore You are considering a job in a risk consulting firm and going through a round of interviews
Posted on: 7th Aug 2023
FIN382: Risk Management for Finance and Technology Assignment, SUSS, Singapore You are considering a job in a risk consulting firm and going through a round of interviews
Question 1
You are considering a job in a risk consulting firm and going through a round of interviews. The first interview is with Mrs. Wu, a senior consulting manager. The purpose of this interview is to test your understanding of risk identification and mitigation.
Mrs. Wu asks you to consider (6) different risks situations:
(i) A bank officer lending money to a small grocery business.
(ii) A farmer selling his crop at the price set by international markets.
(iii) A venture capitalist considering an investment in a technology start-up.
(iv) A developer planning to build a new residential property.
(v) A retailer buying a software application to detect fraud on credit cards.
(vi) A fund seeking to purchase a government bond.
(a) Define, categorize, and differentiate each risk situation briefly by using the table below.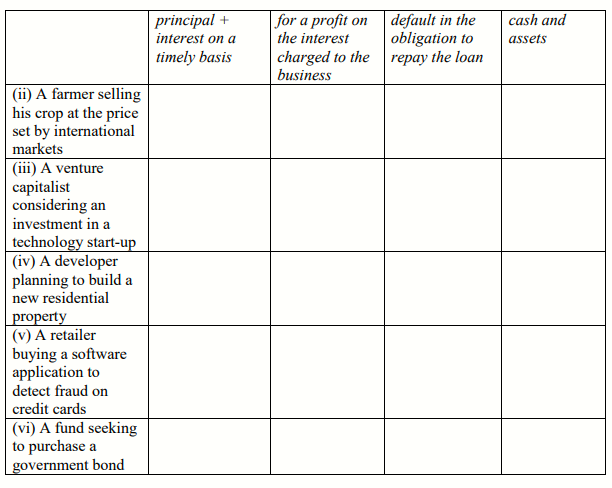 Note that the first situation has already been provided to illustrate the answer. Though there may be several objectives, risks, and mitigation methods for each situation, you need to choose only what is, in your view, the one (1) major risk for each situation. Make sure to use the table and fill in every cell with a brief justification.
(b) Explain, contrast, and illustrate the problems in risk identification and decision Mrs. Wu asks you to complement what you learned on risk at SUSS by internet research before answering your question. Her preference would be to illustrate your points by using the second example developed above – (ii) a farmer selling his crop at the price set by international markets. Alternatively, you are free to answer this question by using another example above or a real-world case, should you feel more inspired.
Question 2
The second interview is with Mr. Isabelo, the quantitative expert. The purpose of this interview is to assess your risk measurement skills. Assume an investment firm holds an equity stock with a unit price of $75. The policy of the firm sets its risk limit to 90% VaR (Value at Risk) and ES  for any individual security. Risk measures are based on a set of 30 historical return data points, as provided in the table below. The returns are ordered and provided in percentage (%) terms.
(a) Categorise the exact class of risk to which a stock is mostly exposed to.
(b) Compute the 90% VaR measure for this bond and explain your result.
(c) Compute the 90% ES measure for this bond and explain your result.
(d) Assume now that the confidence level is increased to 95% on both limits. Compute the new VaR and ES measures and explain your results.
(e) Interpret the results of 90% VaR and ES and compare them with the 95% results. Explain their significance for the investment firm.
(f) Illustrate the limitations of VaR as a risk measure and the complementarity with ES.
Stuck with a lot of homework assignments and feeling stressed ? Take professional academic assistance & Get 100% Plagiarism free papers
Get Help By Expert
Embarking on your FIN382: Risk Management for Finance and Technology assignment at Singapore University of Social Science (SUSS)? Elevate your scores with top-notch assignment help in Singapore. Unveil a spectrum of services at My Assignment Help SG that ensure comprehensive solutions, on-time delivery, and academic excellence. You also avail our skilled writers for Business finance Assignment, NTU, Singapore.
Get Your Assignment Completed At Lower Prices
Plagiarism Free Solutions
Hire a Writer Now