ACC201: Financial Accounting Assignment, SUSS, Singapore On December 1, the company issued 20,000 new shares at $0.60 per share to a supplier to settle an outstanding account
Posted on: 14th Sep 2023
ACC201: Financial Accounting Assignment, SUSS, Singapore On December 1, the company issued 20,000 new shares at $0.60 per share to a supplier to settle an outstanding account
The trial balance of HLT Pte Ltd as of 30 November 2018 is given below.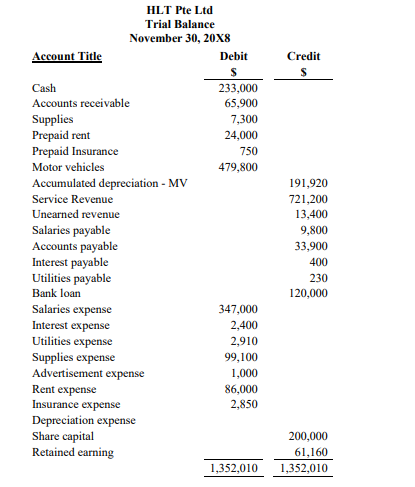 In the preparation of the financial statements for the year ending 31 December 2018, the following transactions for the month of December 2018 were given as follows:
On December 1, the company issued 20,000 new shares at $0.60 per share to a supplier to settle an outstanding account.
On December 3, the company bought $19,500 worth of supplies on credit and
paid $20,000 to the supplier for the amount owed from the previous purchase.
On December 6, the company performed a service for a client. The client paid
the company $1,200 for the service and will pay the remaining 80% the next month.
On December 8, a customer paid $28,800 owed to HLT Pte Ltd.
As part of the advertisement effort, on December 11, the company paid $2,000 for a two-week radio commercial, the first part to be broadcast on the last week of December 2018 and the second part to be broadcast in the first week of January 2019.
On December 13, the company settled all outstanding salaries payable and
utilities payable.
Salaries for the month of December amounted to $37,000. $34,500 was paid on December 23. The remaining will be paid next month.
On December 24, the company received a utility bill of $340.
On December 27, a customer paid $3,500 for a service to be performed the next week. The accounting clerk recorded the entries as debit cash and credit service revenue.
Supplies on hand as of December 31 were $5,630.
cta_question_SUSS
Get Help By Expert
Looking for affordable ACC201 Financial Accounting assignment assistance in Singapore? Get top-quality solutions at pocket-friendly rates with My Assignment Help SG. Our 'Do My Assignment' service is tailored to meet the needs of SUSS students. Score higher grades without breaking the bank!
Get Your Assignment Completed At Lower Prices
Plagiarism Free Solutions
Hire a Writer Now