ACC210: Accounting for Decision Making and Control Assignment, SUSS, Singapore Alpha Electronics Corp manufactures and sells a unique intermediate component part that is widely used in various household
Posted on: 7th Aug 2023
ACC210: Accounting for Decision Making and Control Assignment, SUSS, Singapore Alpha Electronics Corp manufactures and sells a unique intermediate component part that is widely used in various household
Question 1
Alpha Electronics Corp manufactures and sells a unique intermediate component part that is widely used in various household electronic products. Operating results for the latest three financial years were as follows:

As the industry matures, the company is facing stiff competition from several regional players. Sales dropped 20% during 2020, against an original expectation of 40,000 units. Production for 2020 was budgeted at 50,000 units so as to build a sufficient buffer to prevent any stockout situation from unexpected demand surge.
The excess stocks from 2020 were carried over into 2021, and accordingly, the budgeted production for 2021 was cut.

There is the following additional information about the AEC:
Fixed manufacturing overhead costs $600,000 per annum Fixed selling and administrative costs $70,000 per annum Variable costs per unit: Manufacturing cost $4 Selling and administrative cost $4
The fixed manufacturing overhead costs are applied to units of production on the basis of actual production for the year.
The company uses the FIFO inventory flow assumption.
There were no opening inventories for 2019. AEC's senior management is perplexed as to why the operating results do not fluctuate in tandem with the sales numbers.
Hire a Professional Essay & Assignment Writer for completing your Academic Assessments
Question 2
Omega Medical Supplies Pte Ltd (OMS) is a small but growing manufacturer of medical equipment. Due to its small set-up, the company does not have a sales force of its own but relies entirely on independent sales agents to market its products.
The independent sales agents are paid a commission of 15% of sales. This is reflected in the budget for the new financial year ending 31 December 2022, as follows: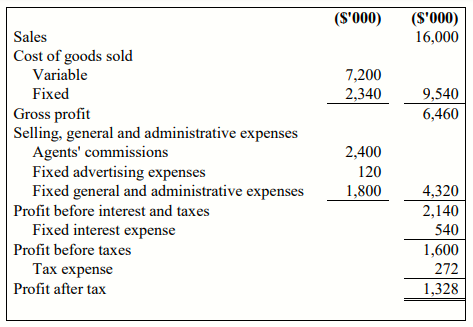 Subsequent to the approval of the budgets for the year ending 31 December 2022, OMS was informed that independent sales agents demanded an increase in commission rate to 20% for 2022 to cover for advertising, travel, and other promotional costs. This effectively rendered the approved budgets invalid.
The founder of OMS, Denzel was indignant that they had to be subjected to the unfounded request by the independent sales agents and commissioned an urgent study of hiring its own sales team.
After a detailed analysis, the financial controller proposed to engage the company's own sales team, providing a 7.5% sales commission and a base salary, which is comparable to market rates. However, the company will have to handle all advertising and promotional activities internally.
Under the new proposal, fixed costs would increase by $2,400,000  but this would be better than having to pay the independent sales agents a commission of $3,200,000 (20% of $16,000,000).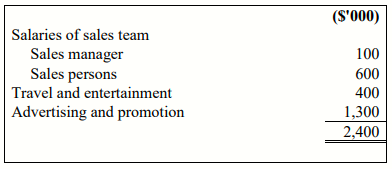 Denzel was very pleased with the proposal, commenting that the $2,400,000 is exactly the same as what the company would have paid under the 15% commission rate. In addition, there would be additional savings of $75,000 from auditing fees paid to verify the agents' sales reports. In other words, general and admin expenses will decrease by $75,000. He has asked the financial controller to tidy up the proposal quickly and get the new budget approved.
Buy Custom Answer of This Assessment & Raise Your Grades
Get Help By Expert
Unveil the path to academic excellence at the Singapore University of Social Science (SUSS) with specialized Assignment Help in Singapore. Embark on your ACC210: Accounting for Decision Making and Control Assignment journey equipped with the expertise of My Assignment Help SG. Amplify your comprehension with personalized aid, curated to your learning needs. With a commitment to your success, this collaboration ensures a deeper understanding and higher grades. You also avail our skilled writers for Ethics and Accounting Theory Assignment, SUSS, Singapore.
Get Your Assignment Completed At Lower Prices
Plagiarism Free Solutions
Hire a Writer Now