FIN203: Essentials of Financial Management Assignment, SUSS, Singapore You should join a GBA group of a maximum of 4 members on your TV course site
Posted on: 31st Jul 2023
FIN203: Essentials of Financial Management Assignment, SUSS, Singapore You should join a GBA group of a maximum of 4 members on your TV course site
You should join a GBA group of a maximum of 4 members on your TV course site. If you have not joined a group by end of week 1, your instructor will randomly assign you to a group. You will not be able to switch groups thereafter. This grouping is solely for the purpose of marks
allocation.
Marks awarded to your assignments are based on the GBA scoring guide and you will receive equal marks for your group effort. Review the GBA Scoring Guide to ensure that your assignment meets the expectations it contains.
Question 1
A recent study on active portfolio management found that in an observation period of 10 years, 85% of managed funds invested in large-capitalization stocks underperformed the S&P 500 and in 15 years, almost 92% are found to be trailing the index.
Discuss if portfolio managers are relevant in an Efficient Market.
Question 2
You are an investor and you are looking at two (2) potential stocks for inclusion in your portfolio. You plan to divide your investment equally between the two (2) stocks. The historical performance of the two (2) stocks is shown below: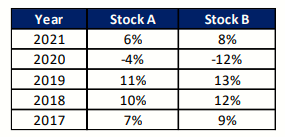 (a) Use MS Excel to help you determine the following:
The expected return and standard deviation of returns for Stock A and Stock B
Portfolio expected return and standard deviation
Covariance and correlation between Stock A and B using the formula approach.(b) Determine if the following statement is TRUE or FALSE and explain your answer."If a portfolio has a long-run mean return that is reliably above the mean return on the market, then this is evidence that the portfolio manager possesses skill in picking stocks."
(c) You are also considering an investment in another company, Company C. The market debt-equity ratio for Company C is 3. Suppose its current cost of debt is 6% and its cost of equity capital is 14%. If Company C issues equity to repay its debt and thus reduces its debt-equity ratio to 2, the cost of debt capital will be reduced to 5.5%. Assuming perfect capital markets, determine how this change will affect Company C's cost of equity and the weighted average cost of capital (WACC). Determine what happens if Company C pays off its debt completely and how such capital restructuring activities would affect Company C's firm value.
Stuck with a lot of homework assignments and feeling stressed ? Take professional academic assistance & Get 100% Plagiarism free papers
Get Help By Expert
Excel in Your Studies with Our Group-Based Assignment Support! At Singapore University of Social Science (SUSS), we offer expert assistance for FIN203: Essentials of Financial Management Assignment. Join a GBA group of up to 4 members on your TV course site to tackle these formative, group-based assignments effectively. Singapore students can confidently pay our experts, benefiting from our reliable Report Writing Services Singapore and online assignment help. Let our dedicated team be your academic partner on the path to success at SUSS. Don't miss this opportunity to unlock your academic potential—choose the best assignment support in Singapore today
Get Your Assignment Completed At Lower Prices
Plagiarism Free Solutions
Hire a Writer Now